New fencing has begun being installed behind SHES, CELC and MVLA today. We will continue to make safety our top priority!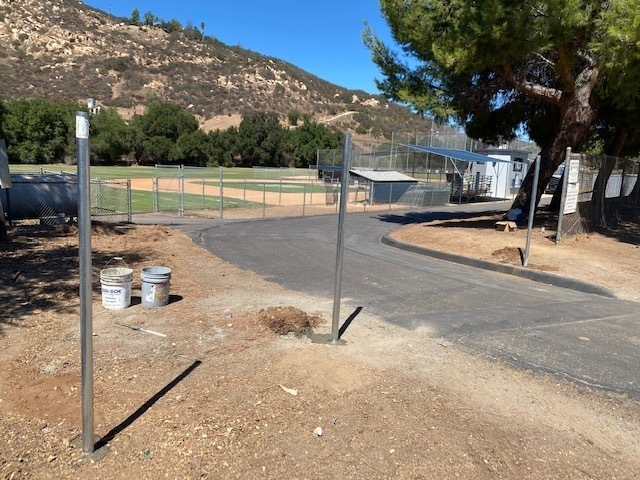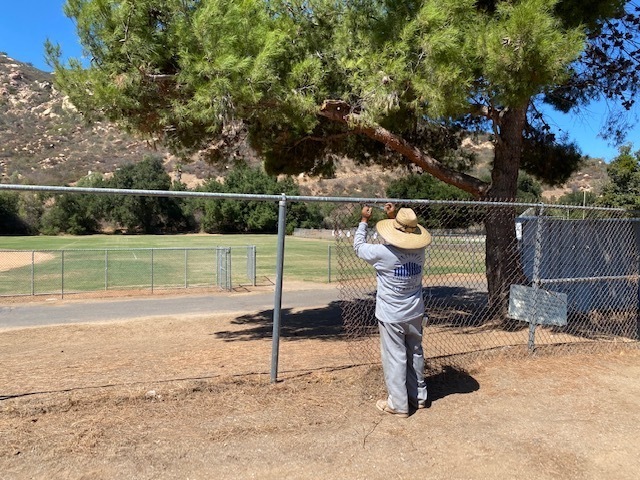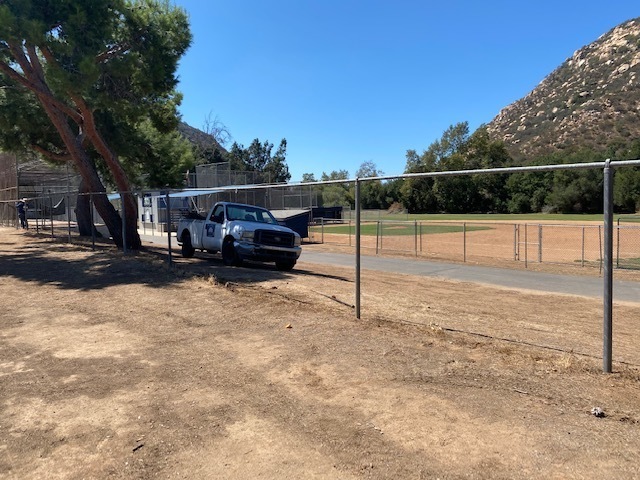 AUSD Safety and Security Update

In an effort to provide all the information we have, I wanted to relay that the Deputies were unable to locate any evidence of gunfire. In addition, it has been posted online that the Sheriff's Department arrested someone in relation to this event. That is not accurate. The Sheriff's Department asked me to relay that they arrested someone close by for a completely unrelated incident. Again, thank you for your support.

The Sheriff's department has secured the campus and released both schools from lockdown. The Sheriff's department will be on campus. Parents wishing to pick up their child will be greeted at the gate and will not be allowed to enter the campus. Parents will follow our process for picking up students.

We are staying in close contact with Sheriff's department. Helicopter is sweeping the area. Principals are in communication with teachers and staff. We will continue to keep you updated.

Sheriff's are on site investigating. We will continue to keep you updated. Please do not come to the campus. The campus is secure and in lockdown.

SHES and CELC are currently in a lockdown after there was a report of a sound like a gunshot. The Sheriff's department is on-site investigating. We will keep you updated. Please do not come to the campus.

SHES and CELC are currently in lockdown. We will keep you updated. Please do not go to the campus at this time.

Our district is grateful for a close partnership with the Alpine Sheriff's Office, especially in providing training and support for our staff. We work closely to ensure the training we provide is best practice and is consistent with national, state, and local recommendations. Our staff trains for a variety of crises that may be encountered including fires, lockdowns, health issues, active shooters, intruders, shelter in place, and weather-related crises. Thank you, Captain Rand and the Alpine Sheriff's Department for your support, collaboration, and training.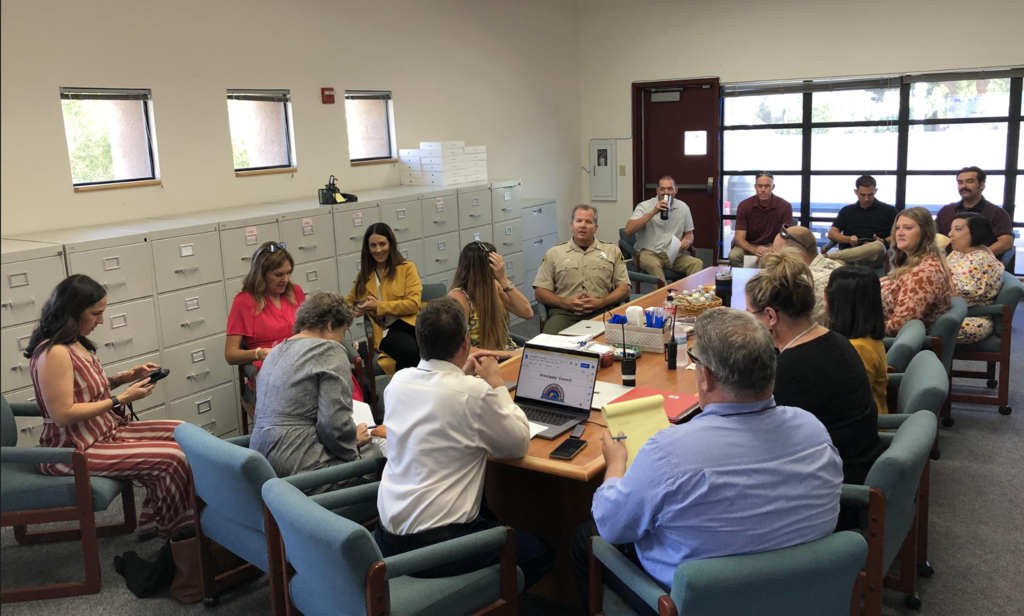 Liberty Charter High School is holding an Open House on September 1. All are welcome to attend!

Throughout the year, Dr. Newman undertakes different jobs in the District to work side by side with employees to get the "real" experience. This week he served as a bus attendant on Petr's bus. Kudos to Petr for his professionalism. He is an inspiring member of TEAM AUSD!

Today was the official grand opening of the new JMMS Community Field . We are deeply grateful for the support of Supervisors Anderson and Jacob and to the Alpine community for helping make this field a reality. Yeah!!!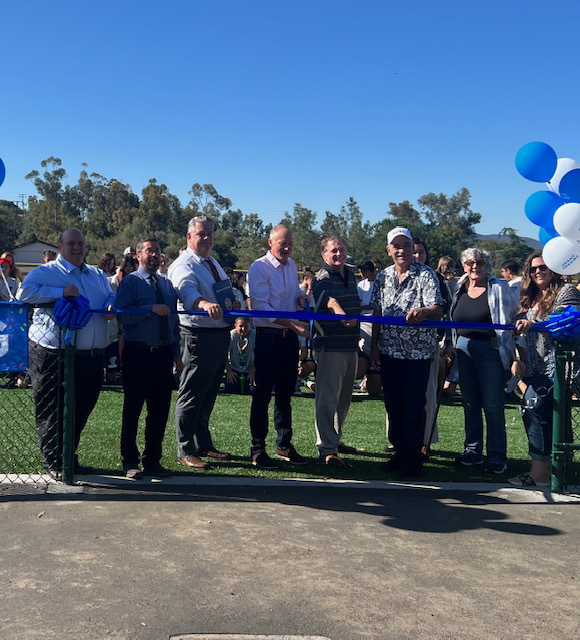 Welcome to the 2022-23 school year!

Safety in AUSD Schools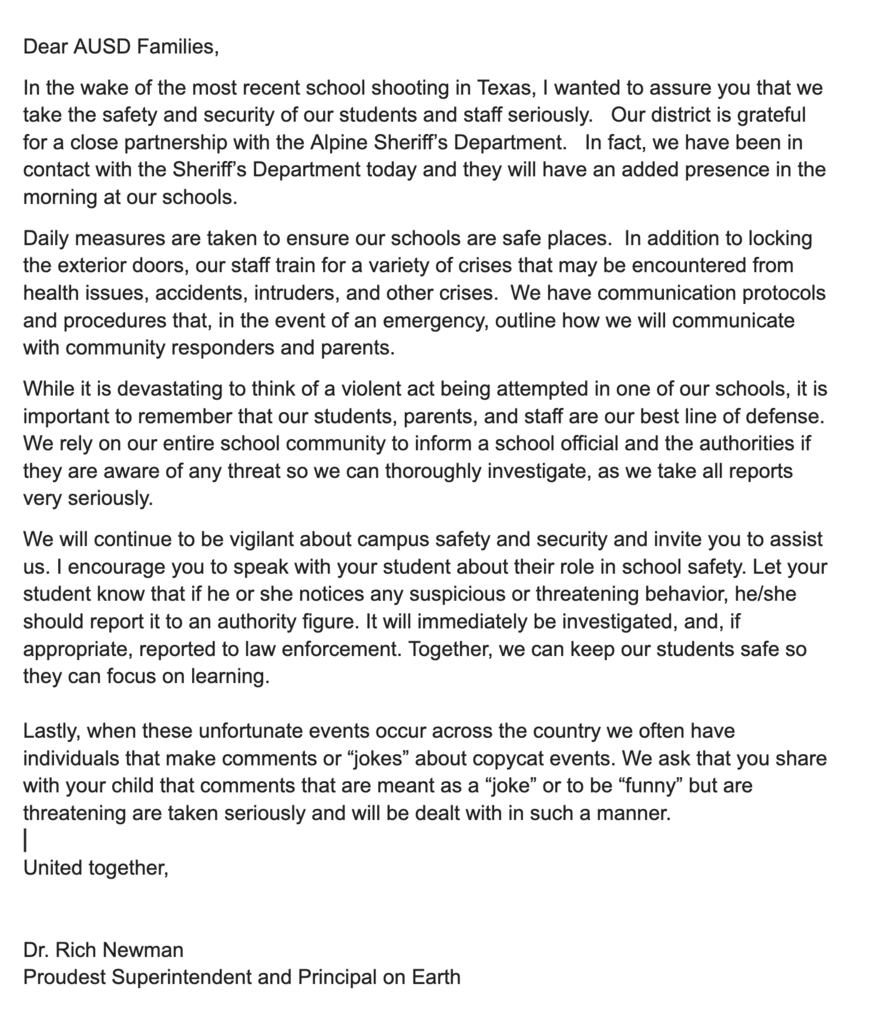 Dear AUSD Families, Unfortunately, two of our campuses, Shadow Hills Elementary and Creekside Early Learning Center, were vandalized this past weekend. We are working closely with the Sheriff's Department and seek your assistance in identifying those responsible for damaging classrooms, the little league fields, and recovering stolen computers. Individuals on four motorcycles drove through campus and are believed responsible for the damage and theft. If you have any helpful information, please contact the Sheriff's Department. Sincerely, Dr. Newman

Dear AUSD Families: Earlier this week California Governor Gavin Newsom and the California Department of Public Health (CDPH) announced that masks will no longer be required in schools starting March 12, 2022. The announcement by the Governor and CDPH gives me hope that regular life can once again resume. As we enter this new phase, I once again ask for your grace as we move forward. I encourage everyone to remain kind and respectful and appreciate the personal choices of our classmates and staff members. While the last two years have not been easy I am encouraged by the resolve our school community has shown. I am deeply proud of how our District and community have partnered throughout the pandemic. Our work together and especially the work of our staff has set an example for the county, state, and country. Onward and upward, Dr. Rich Newman Proudest Superintendent and Principal on Earth Alpine Union

Liberty Charter High School Showcase and Open House! Coming to Alpine in August of 2022!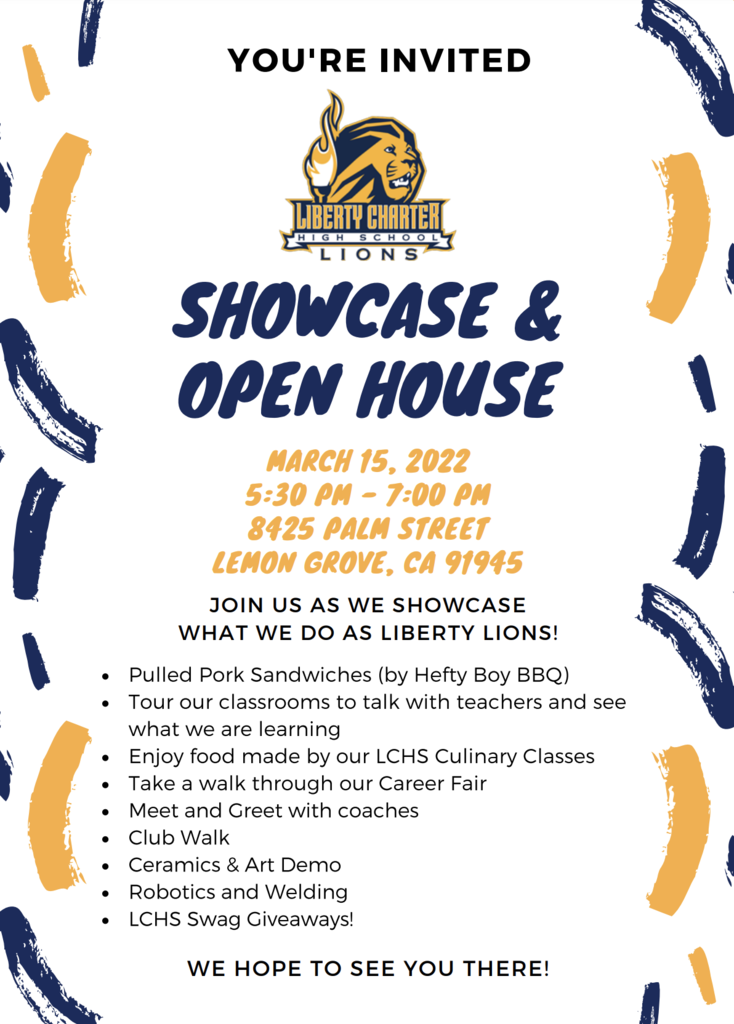 Dear AUSD Families, When I began in AUSD almost six years ago, I became connected to an amazing community that was rich in tradition, and proud of its heritage. While we have tackled many issues together, the hope of bringing a high school to Alpine has remained an elusive and unfulfilled goal. The Board and I have continuously kept our eye on that prize, with a high school remaining a top goal for our Board. There has been a tremendous amount of work behind the scenes over the years to make an Alpine high school a reality. I am over the moon to announce that on Thursday, the Board of Trustees will meet to approve the leasing of the Alpine Elementary School site to Liberty Charter High. They will begin operating in August 2022, and renovations of the buildings will begin immediately with the plans to turn it into a state-of-the-art high school learning center. While the high school will operate separately from AUSD, Debbie Beyer, the Executive Director of Liberty Charter, and I have been collaborating very closely to ensure that there is a strong partnership and synchronicity between our schools. Debbie and I have worked to ensure that our students will be given priority status to enroll. I know that our Alpine community will ensure that Liberty Charter gets a very warm welcome. Liberty Charter is one of the longest-serving high school charters in the state. It is also one of the highest-performing charter high schools in San Diego. Liberty offers a rigorous curriculum including AP, Honors, and CP courses, career exploration, and dual credit classes. Students have travel opportunities, national and international, community service, competitive sports teams including CIF championships, and involvement in a wide variety of clubs. Along with developing critical thinking and STEM skills, students also learn soft skills such as leadership, teamwork, camaraderie, public speaking, project management, time management, marketing, and grant writing. A Liberty High School senior class receives, on average, a combined total of close to four million dollars in scholarship awards, including merit-based and athletic-based scholarships. I look forward to a long partnership with Liberty and to seeing a high school finally join our Alpine Community. To a new partnership, Dr. Rich Newman Proudest Superintendent and Principal on Earth

Dear AUSD Families, Like many others, I was disappointed by California Health and Human Services Secretary Dr. Mark Ghaly's Monday announcement regarding masking. Dr. Ghaly's announcement lacked a roadmap with timelines, metrics, and rationale to safely guide us away from pandemic restrictions, especially universal masking in schools. Once again, we must wait until the next announcement on February 28. This information comes on the heels of my discussion last Friday with Dr. Sohil Sud, Co-Director of the Safe Schools for All team at the California Department of Public Health. On that call, I specifically asked about the enforcement mechanism that is required by school districts. In particular, I discussed our policy of meeting the CDPH guidelines if we allowed students who declined to wear a mask to remain in a class by offering a mask or face shield to them. Following that meeting, I reached out to Dr. Wooten, Public Health Officer for the County of San Diego. On Monday, I, along with a small group of superintendents, met with Dr. Wooten. I once again voiced my deep concern about the impact the continuation of the mask mandate is having on our community, students, and staff. I outlined our local context and the work our District has done to ensure the safety of students, staff, and community. I shared with Dr. Wooten our protocols and policy going forward and our strategy to keep all students in class learning. In short, if a student arrives at school without a mask they will not be removed from the classroom. We will work closely with our parents and implement the following protocols: Students will be offered a mask or face shield Parents will be informed about the importance of wearing masks Independent study will also be offered as an option to in-person learning From the start of the pandemic, our school district has been focused on ensuring a safe, healthy working and learning environment to meet our moral obligation of providing our students the opportunity for in-person learning. We positioned our schools to be models for how to safely open. We remain steadfast in our desire to continue to work with our families and community. Over two years have passed since the pandemic began and our commitment to these goals has not changed. Our school staff (and all school employees) have done their part in making our schools safe while continuing to adhere to every safety guideline and protocol. Schools need to return to a place where the only focus is teaching and learning and not where political battles are waged. It is time for our state leaders to do their part and share a plan that is sensible, transparent, and provides actual metrics and goalposts that would move us forward. Looking forward to a return to normalcy, Dr. Rich Newman Proudest Superintendent and Principal on Earth Alpine Union

Dear AUSD Families, On Friday, I, along with San Diego County Superintendent, Dr. Paul Gothold, and two other San Diego county superintendents, had the rare opportunity to speak directly with Dr. Sohil Sud, Co-Director of the Safe Schools for All team at the California Department of Public Health. In representing Alpine Union, I voiced my deep concern about the impact the continuation of the mask mandate is having on our community, students, and staff. I shared my disappointment that schools have become de facto public health agencies and that we must continue to implement a mask mandate that will soon not be in place in virtually all sectors of our state. I advocated for choice in wearing masks. That is, the choice for students to decline or choose to wear a mask. Just as importantly, I advocated for providing clarity on what the state plan is to lift the mask mandate in schools. I outlined the social and emotional impact the mask mandate continues to have on all of us. I shared that many of our finest staff, teachers, and principals are updating their resumes and contemplating leaving Alpine as the pressure around trying to balance keeping all students safe and respected while focusing on teaching and learning has become virtually untenable in the emotional and polarizing climate in which we work. I shared that local context should matter and that how we, as a District, continue to respond to the pandemic should be taken into consideration in reducing the mask mandate. In fact, our local plans and context were a critical factor when we received the initial waiver from the state to open. My colleagues and I also asked specifically for a public health roadmap, with timelines, metrics, and rationale, to safely guide us away from pandemic restrictions -- such as universal masking in schools -- to less restrictive endemic mitigation strategies. We strongly recommended in the most respectful way possible that this plan be shared publicly before Wednesday, February 16, when the relaxation of the indoor mask mandate for vaccinated individuals in most public settings goes into effect in California. It was confirmed on the call that we can expect an announcement early next week about the state's next steps regarding masks in schools. Following the call, I also reached out to Dr. Wooten, Public Health Officer for the County of San Diego, in an effort to get clarity on the mask mandate in schools and what can be expected. I very much look forward to that conversation in the coming days. The past several weeks have been incredibly challenging, and in many respects, disheartening. Emails and calls demanding that we defy public health orders, whether to go beyond them or to remove them, are a tremendous distraction from our primary work of educating students. Our job in public education is teaching and learning. Educators are not epidemiologists, health practitioners, or politicians. Simply put, threats and intimidation have no place in our schools or community. I am proud of our district and incredibly honored to work alongside the amazing staff we call TEAMAUSD. Our school and district leaders will continue to advocate on behalf of all of our students, and I continue to ask for your grace and patience as we develop plans and potential next steps while staying focused on the ultimate prize - ensuring our students reach their potential. Honored to serve Alpine Union, Dr. Rich Newman Proudest Superintendent and Principal on Earth