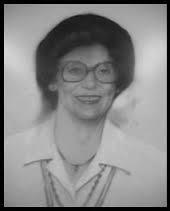 STORY OF JMMS MIDDLE SCHOOL
JOAN MACQUEEN'S RICH HISTORY
Joan MacQueen was born in Denver, Colorado in 1914. Her family moved to Los Angeles when she was a young girl. She worked her way through school and graduated from UCLA in 1938. She was a member of Delta Kappa Gamma, a National Honor Society. After Joan married, she and her husband moved to El Cajon. In 1966 she started teaching in Alpine. In 1974 she was appointed principal of the Chapparal Middle School, which was located in Harbison Canyon. She retired in 1979, but due to a vacancy, she returned as an interim principal during the spring semester of 1982. During her years as principal she was the first to arrive in the morning and usually the last to leave in the evening. She would counsel with students and staff and talk on the phone with parents and community leaders. Mrs. MacQueen was involved in all aspects of the school's operations. For 13 years she served as a teacher and a principal in the Alpine Union School District.
1874, John Stewart Harbison was the premier apiarist and producer of honey in California. Harbison settled in Alpine and became by far this county's leading beekeeper. He is credited with making San Diego County the leading honey-producing county in California and California the leading honey-producing state in the nation. The new school in the canyon was named after him.
1960 – Harbison Canyon School built near the site of the first Webb school. From 1960 until about 1972 the school served the Harbison Canyon area. Students enjoyed a rivalry with Alpine Elementary and Dehesa Elementary Schools with annual Baseball competitions. These were huge family all day events and winning was a source of school pride.
1972-or 73 The AUSD split the students between Alpine Elementary housing the K-5th graders and Chaparral Middle School housing the 6-8th graders. Upon opening there were 10 teachers with Mrs. Joan MacQueen being the lead teacher and the 8th grade History teacher and one principal, Mark as principal of both schools. The District office was also at Alpine Elementary School site.
From 1974 until 1979 Joan MacQueen led the school with a soft-spoken voice that provided great leadership. She was an ultimate teacher and led by example always putting students ahead of all else.
1979 A new Principal arrived coming from Dehesa Elementary, Cyril Reinicke who took the reins. He was equally a student-centered teacher leading the school. When a huge growth in enrollment occurred the school site became a 6-7-8 school on regular schedule with Mr Miller as Principal and two 3-4-5 mini schools on double sessions (AM and PM) with Mr Reinicke as Principal. The first multi-media library was created in the old cafeteria and the first computer lab (Commodore 64's!) were a part of the center. The staff had grown to twelve 6-7-8 teachers and twelve 3-4-5 teachers. To house the growing population a satellite school was soon built next door first in portables then in constructed classrooms and became Shadow Hills School with 3-4-5 students and K-2 at Alpine Elementary. The principal was Jon Knight.
1981 Ed Foster, a former 8th grade teacher became Chaparral's new principal. When a economic opportunity arose he left and Joan MacQueen returned as temporary principal for the spring 1982 semester. Then Rick Miller was hired from Santee and became the next principal.
1984 On September 11, 1984, the Alpine School Board voted to rename the Chaparral Middle School after Joan MacQueen. The dedication ceremony took place on October 19th, which she was able to view on video prior to her death.
2001 A new middle school was built at 2001 Tavern Road and out of respect they named that school Joan MacQueen Middle School. Mrs. MacQueen died in 1985 from Lou Gehrig's disease.